Legal assistance vital for business beyond borders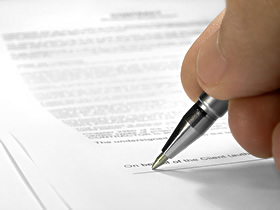 Let us assist you in matters concerning contracts and legal documents, as well as certificates of any type and application forms.
Contracts and legal documents require a high degree of expertise, as they need to be translated to convey the meaning of the original text in a strictly accurate way.
International Interface has a team of staff including U.S. lawyers, legal experts at leading companies and staff with working experience at law firms capable of translating such documents. We will support you with legal issues vital for your business extending beyond borders, by preparing documents with full knowledge of international laws, laws and regulations that differ from those in other countries, and differences in culture and business customs.
We will also make the most of our network of legal experts including lawyers, judicial scriveners, and administrative scriveners in Japan and overseas to perform legal checks and reviews of contracts and legal documents.
Track record in legal translation
Business tie-ups / Business consignments
Basic agreements / Business consignment agreements / Sales representative agreements / Sales contracts / Real estate contracts / Lease contracts / Disclosure statements
Absorption and merger agreements / Share exchange agreements
Non-disclosure agreements / Personal information consent / Privacy policy
Intellectual property agreements / Software license agreements / Copyright agreements / Re-licensing agreements
Corporate codes of conduct / Corporate codes of ethics / Business guidelines /Internal control documents
Articles of incorporation / Convocation notices of shareholders' meetings / Resolution notices of shareholders' meetings / Board of directors meetings' minutes
Complaints / Settlement agreements / Sorting of bequest contracts / Verdicts
Certificates / Application forms
Certified copies of corporate registration, Certificates of all present matters / Family registers / Certificates of residence / Alien registration certificates / Authorization letters / Real estate registries / Grant applications
Related Service
Legal & Accounting

We utilize our network of lawyers, accountants and specialists in Japan and Asia, as well as worldwide. We provide support for communications with specialists in a variety of fields.

Official member of Japan Translation Federation