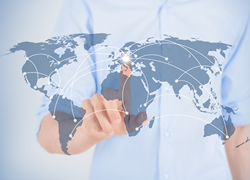 The mission of International Interface is to help our client companies optimize their business and maximize their earnings on a global level.
We are headquartered in Japan, a country renowned internationally for its technology, craftsmanship, and high quality of service. By providing clients worldwide with carefully selected information about the best of what Japan has to offer, and promoting investment from overseas and international cooperation, we can further increase the value of Japanese products and services. Doing so will also generate significant profit for overseas investors.

However, only a small portion of Japan's population speaks English, and the culture, business practices, time zone, legal regulations, accounting standards, and tax system are all different from those of other countries. The obstacles to doing business with Japan are not small.

International Interface provides the platform that client companies need in order to operate in Japan, covering all aspects of business activities from collecting information and cultivating markets, to forming partnerships and making investments. Our goal is that by using this platform our clients will be free to develop their business unhindered by these barriers.
In seeking to accomplish its mission, the staff at International Interface is guided by the following watchwords:

・Passion to think and act independently
・Creativity unbound by preconceived ideas
・Commitment to the pursuit of quality
Each and every member of our staff strives to deliver his or her best performance so that we can serve as an interface between our client companies and businesses throughout the world.