Testimonials from Clients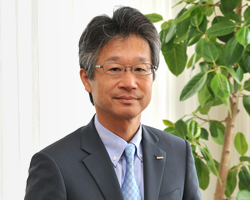 Mr. Kiyohito Nagata
Executive Vice President
Managing Director of Kansai Regional Office
NTT DOCOMO, INC.
With the spread of smartphones and other devices, the value that users demand from their mobile phones has become increasingly complex and diversified. And I think that the users' sense of such value does not depend on how many features the phone has, but rather on the pleasure and enjoyment offered by the user experience, which they only realize once that experience has become a part of their lifestyle. Moreover, that experience can be perceived in a thousand ways.
In order to provide these kinds of sophisticated value, fresh innovation is constantly demanded of DOCOMO. However, innovation is not something that is born naturally, nor something that can be produced on command. I believe that the key is to always keep an eye on new businesses, new technologies, and new methods, acutely pick out subtle similarities or application possibilities for our company's business, and then create value by exerting our power of imagination. I have been responsible for launching various products and services and have offered our users a range of new experiences.
In the course of those activities, we have engaged with International Interface to obtain information from around the world, ideas, and analyses, as well as support for negotiations with potential affiliates including those in overseas; this has been, without question, of vital behind-the-scenes assistance in our business. We look forward to the support of International Interface as a powerful partner in many situations as we take on the challenge of creating new value in the years ahead.
Track Record
Strategic investment and uncovering the latest network virtualization technologies
Negotiations with overseas start-ups and performed translations and legal checks of related documents

Research and negotiations with aim of forging an alliance with overseas Web development company
Research on overseas markets and technology trends, as well as negotiations to form a partnership with an overseas web development company

Quantitative and qualitative research on electronic medical device use in the U.S.
Quantitative and qualitative research in the U.S. and supplying multifaceted analyses and knowledge