Comprehensive support for global communication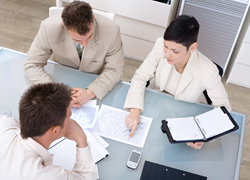 International Interface offers communication services to support your global strategy through translation, interpretation and multi-lingual productions. Our fields of specialty include IR, finance, management, contracts, legal affairs, patents and technologies. We have received requests from over 400 clients both in Japan and overseas, including as companies listed on the first section of the Tokyo Stock Exchange, foreign companies, leading financial institutions and law firms.
Communication services
We assist in the IR activities of companies in a comprehensive manner.
We provide a translation service for documents in the financial field which require high levels of expertise.
We offer a translation service for cutting-edge management and marketing techniques and information for business leaders.
We translate various legal documents with a high degree of accuracy.
Our best-in-class interpreters enable you to achieve smoother communications in your international business.
We design and create high-quality marketing tools such as presentations, catalogues, videos, and websites.
Languages covered
Japanese
English
Chinese (both simplified and traditional characters)
Korean
Spanish
Portuguese
German
French
Italian
Russian
Indonesian
Vietnamese
Thai
…and more

Official member of Japan Translation Federation