We are the first RE/MAX Brokerage Office in Japan
RE/MAX is a global real estate network boasting the world's highest transaction volume, with more than 7,300 offices and approximately 115,000 outstanding agents worldwide. (as of 2017)
International Interface engages in the real estate business as the RE/MAX Group's first franchise office in Japan. Using the network and experience available only to a RE/MAX Group member, we will serve as a guide to Japan's high value-added properties for international investors.
Total support that gives you access to Japanese real estate
International Interface focuses on real-estate properties in Japan with high added-value and provide brokerage services for overseas investors and foreign residents who are interested in buying, selling and renting these properties.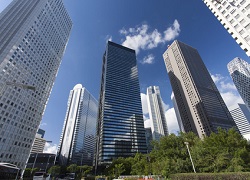 We believe that the keys for success in investment are to collect and analyze wide range of useful information about the investment, and also to visit the real properties to make confident decisions.
In order to fulfill these ideas, we provide easy-to-understand explanations not only of real estate information, but also the economic status, tax system, Japanese statistical data and other knowledge and information required for buying real estate properties through our dedicated website and social networks.
Additionally, we can arrange and carry out tours for you to actually visit properties that catch your interest. Our bilingual staff will show you the right property for your needs and other locations that are must-visits in Japan.
→ Our team of professionals supporting our agents
realestatelistings.jp, our multilingual property membership website full of discoveries
What is realestatelistings.jp?

"realestatelistings.jp" is a multilingual property membership website, which is operated by International Interface, provides all sorts of information relating to real estate investment. Although our website is originally designed for real estate investment, we are also committed to serving any registered member who buys for residential purposes.

Over 4,000 of the latest listings, which are mostly located in Tokyo, are available on the website that allows you to make your own property search. All information on the website is available in English or Chinese. You can also contact us by sending your inquiry in Chinese, English.

We also provide you with real estate related information including the Japanese tax system, Japanese laws, and the latest market trend, etc. that are available in both English and Chinese. As a global investor, you can get useful information required when making your investment decision.

We offer our expertise to assist you with real estate transaction brokerage, property management and property tax payment service, etc., and "realestatelistings.jp" is the gateway to Japan real estate investment.
All our registered members around the world have realized the excellence of our multi-language total support.

Access us now to find your ideal home at realestatelistings.jp, a real estate information website full of discoveries!
Data & Market Trends
International Interface provides property investors with helpful information on purchasing and renting real estate properties in Japan. All information will be updated in a timely manner.
Trends in the Japanese Economy and Real Estate Market


Real estate price trends in Japan

Rental income trends in Japan

Market comparison with other countries

Useful Tips

Glossary
Simulation
Life in Japan
Studying in Japan

Education system in Japan

Setting up a business in Japan

VISA & Immigration

Seismic performance of buildings in Japan

Our strengths
Professional support

We have our own team of CPAs, a certified member of the Japanese Society of Home Inspectors (JSHI), and a worldwide network of lawyers, accountants and other specialists to support your real estate transactions in Japan.

Over 30 languages

All of our staff are bilingual or trilingual. We currently conduct business in English, Japanese, Chinese and other 30 languages. We can help you in English to access Japanese real estate.

Preview tour arrangement

As a licensed travel agent, we arrange extensive, focused tours to promising investment destinations throughout Japan. Our multilingual staff will show you the right property for your needs and other locations that are must-visits in Japan.

Intelligence

We deliver data, analysis of market trends, and business insights on Japan's real estate market, all based on our outstanding research capabilities.
First Office of

RE/MAX JAPAN

Each Office Independently Owned and Operated

Official Member of National Federation of Real Estate Transaction Associations (Japan)

Official Member of All Nippon Travel Agents Association