Virtual Reality business in Japan
(Updated on December 19, 2016)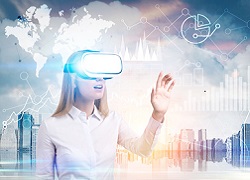 Recently, Virtual Reality (VR) technology has been spreading rapidly around the world. The VR market is currently one of the most active markets as seen in the movements of major companies. For instance, Sony, one of the early entrants into the market along with HTC, successfully launched PlayStation VR, while Facebook acquired Oculus, which started as a Kickstarter campaign and became a massive hit. Many venture capital firms are already making investments in companies engaged in VR. Goldman Sachs has projected that the global AR (Augmented Reality)/VR market will become an $80 billion market by 2025, possibly surpassing the TV market. Various companies in Japan are also entering the VR field, and the market is expected to continue its growth in the future.
VR is expected to be utilized in many fields including not only entertainment, such as video games and live events, but also real estate, healthcare and education.
Currently, VR is being used mainly in the entertainment field, such as video games, movies and TV. In the future, applications in real estate, healthcare, construction engineering and education are expected to become popular and when combined with creativity, we can think of many possibilities.
The year 2016 is known as the year of VR. According to several research firms, the hardware and software market for VR is expected to grow significantly in the next 5 to 10 years.
According to research conducted by Digi-Capital, a British investment bank, AR/VR revenue is expected to grow from approximately $5 billion in 2016 to $120 billion in 2020, with AR contributing $90 billion and VR contributing $30 billion. The reason for the AR market being larger is because more people are expected to use AR due to lower hardware prices compared to VR.
As mentioned above, Goldman Sachs has projected the AR and VR market to expand to $80 billion by 2025. By 2025, AR and VR are expected to be used in applications including video games, healthcare, engineering, live events and video entertainment, of which media applications will account for nearly half of the market.
IDC, a U.S. research firm, forecasts that the worldwide shipments of AR and VR hardware combined will reach 10 million units in 2016 and grow to past 110 million units in 2020.
While many companies in various industries are interested in VR as a potential market, Japanese startups that develop VR technologies are also gaining attention, some of which have even succeeded in large-scale fundraising.
A telepresence technology that is being developed by a startup uses VR to synchronize the user's movement with a robot. A robot in a remote place moves and talks on behalf of the user as if the user was actually in the same place. Although the system currently uses a video game controller, the plan is to support other hardware as well, and the company has already started to collaborate with several hardware companies.
Another startup was able to raise over $480,000 from 1,500 supporters around the world in just two months with crowdfunding. This company develops an eye tracking VR headset that the wearer can control with eye movements. Having being funded by a major venture capital fund as well, the company is expected to maintain stable business activities in the future.
A startup based in Tokyo is developing an AR system that provides a new type of sports game. Players wearing a head-mounted display and an armband sensor move around the field and use their hands to imitate attacks. A theme park in Japan has already introduced this system in one of its attractions. The company is actively developing their business by holding many events in various places nationwide.
As an example of VR application in the construction and engineering industry, there is a VR tool for construction design. A piece of VR production software developed by a startup can import 3D CAD data and 3D model files and enables the user to intuitively edit the design using VR. In addition, with a control that is somewhat like drawing a 3D picture, users can create 3D data within a VR workspace. This tool creates VR contents not only for construction design, but also for various media.
There is also a startup that is developing a cloud-based tool for creating VR apps. This tool supports various platforms including Android, iOS and Gear VR, and allows the creation of a VR app without programming knowledge. The tool has already been adopted by over 5,000 companies. The VR apps that can be created with the tool include a real estate app to look inside a property, a tourism guide app, and a test ride app. These apps can be distributed in various platforms.
One of the examples of VR being used in healthcare is a VR training simulator that is operated by a medical equipment distributor. Recently, medical practices such as endoscopic surgery and catheter treatment are becoming popular as they cause less physical stress for patients. Although physicians are required to have high technical skills, requirements for training environments are strict because of increasing concern for safety. Under such circumstances, expectations are high for the VR training simulator as a teaching material in medical education.
We can help you find Japanese business ventures engaging in businesses related to VR technologies.
Please contact us for further details.