World-leading robot technology in Japan
(Updated on December 26, 2014)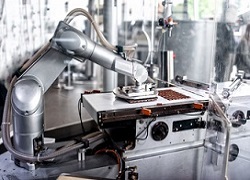 Japan is facing an aging society with a declining birthrate, resulting in a continuous decrease in the working population. Expectations are rising for robot technology to solve these problems, as many developed countries are burdened with similar problems. According to the Ministry of Economy, Trade and Industry, the global market of industrial robots expanded by about 60% in value during a five-year period from 2006 to 2011. The share held by Japanese companies exceeds 50%. Moreover, Japan's export of industrial robots increased by about 80% in value during that period. The scale of the nursing care robot market in Japan is expected to expand from 170 million yen in FY2012 to 34,980 million yen in FY2020. Thus, the industrial robot market in Japan is expected to continue expanding.
A number of companies in Japan are leading the industrial robot industry, and some of the manufacturers are performing well. Several business venture companies based in universities are also receiving attention in the fields of nursing care and disaster relief.
The "Japan Revitalization Strategy" established by the Abe Cabinet was partially revised in June 2014 to include the "Achievement of a new Industrial Revolution driven by robots" as a new measure to solve a wide range of problems in industrial sectors. This measure aims to launch a "Robot Revolution Realization Council," along with doubling the scale of the robot market in the manufacturing field and to expand it by a factor of 20 in the non-manufacturing field. Furthermore, the entire country will be going to focus on robot technology, and it is aiming to promote its cutting-edge technologies to the world. As a concrete example of this, a (tentatively named) "Robot Olympics" is expected to be held in conjunction with the Tokyo Olympics and Paralympics in 2020.
Medical and nursing care
Manufacturing
Disaster relief
Logistics
Agriculture
Construction
Speech and image recognition
Self-location recognition
Surrounding recognition
Multi-axis multi-joint control
Safety control
Actuators
Power supply
Language understanding
Learning functions
Communication and control
Many of the Japanese business ventures related to robot technologies not only offer unique technologies but are also achieving successful results.
One Japanese company that was founded as a university-based business venture develops and sells intelligent software for industrial robots. Its clients include camera and car manufacturers and other companies in Japan. Currently, Japanese manufacturing sites rely on many kinds of robots. The company's unique software is designed to be installed on existing hardware in order to maximize the performance of the hardware efficiently. For example, software installed in a robot can prevent it from running into obstacles, optimizing its operational efficiency. In addition, a web browser can be used as an interface for the software. These features make it possible to easily optimize the factory layout, which had been considered extremely difficult, as well as to control multiple robots.
Another university-based venture in Japan is developing humanoid robots that can play an active role under the harsh conditions of disaster sites and elsewhere. In the wake of the accident at the Fukushima nuclear power plant, the possibilities are expanding for the technology to be used in such locations. This company entered a competition for disaster robots organized by the U.S. Department of Defense. It was acquired by a U.S. internet company in 2013.
Some of the business ventures developing robot technology managed to become listed on the stock exchange. A university-based business venture that supplies robot suits and other products became the first medical and care giving robot manufacturer in Japan to be listed. Its robot suit is currently being used after it was introduced at welfare facilities and hospitals in Japan. One of the suits received a conformity assessment certification by European Medical Device Directives (MDD) as the world's first robot medical device. The certification enables the product's sales and distribution in the European Union (EU).
Now that the government and leading overseas companies are expressing their intent to focus on robot technologies, interest and expectations toward robot venture businesses are expected to heighten.
We can help you fine Japanese business ventures engaging in the field of robot technology.

Please contact us for further details.