Trends in the Japanese Economy (for the half-year ended September 2014)
(Updated on December 26, 2014)
Overview
Weak economy expected to recover following consumption tax-hike
Japan's economy is on a gradual recovery track, despite some remaining weakness. After the consumption tax was raised in April, economic conditions temporarily worsened, resulting in declining growth for two consecutive quarters. Japan's real GDP recorded an annualized year-on-year growth rate of -7.1% in the April-June period of 2014 and -1.6% in the July-September period. The figure for the latter quarter in particular fell short of many economists' estimates. The figure made headlines throughout the world as an assessment of the effects of Abenomics, mostly because its announcement came right before a Lower House general election. The principal factors for shrinking growth include a backlash in last-minute demand prior to the consumption tax hike, a decrease of consumer spending due unseasonable weather and other factors, and a fall in residential investment. On the other hand, improvements in business performance by companies led to a better employment situation, including wage increases and a higher ratio of active job openings to applicants. The trend has also improved the household income situation, and thus consumer confidence is continuing to improve. Along with government policies to support the economy, economic conditions are expected to move to a recovery track in the autumn of 2014 or later. Moreover, the government has placed top priority on economic recovery and overcoming deflation. It decided to delay the rise of the consumption tax rate to 10% scheduled for October 2015, which will help boost the economy in the immediate future. In the fiscal year of 2015, it is expected that the autonomously expanding mechanism of the economy (positive effects in the corporate sector filtering to household budgets) will be gradually enhanced and economic conditions will remain solid. However, attention should be given to risks that may put downward pressures on the economy such as a sluggish income growth owing to rising prices in step with the weakening of the yen, a worsening of economies overseas, and a continuing reaction to the last-minute demand.
Lingering effect of the tax hike
The decline in domestic demand due to the backlash of last-minute demand right before the tax hike is showing signs of gradually abating. The government's decision to delay the rise of the consumption tax rate to 10% will work to lessen the downward pressure on consumer spending resulting from low purchasing power due to higher prices. This decision is expected to bring positive effects to the economy for the time being. According to an estimate, the tax hike delay will boost the economy by 0.2% points in FY2015 and 0.5% points in FY2016. Meanwhile, public investment associated with the consumption tax hike, measures to assist businesses and households, and other economic policies are anticipated to prop up the economy. Public investment in particular is the main pillar of the policies, and its growth is expected.
Tokyo's economy
Some weakness has been seen in Tokyo's economy, although it is recovering moderately mainly thanks to broad-ranging policies. Consumer spending and employment are on track for recovery, and business confidence among Japanese companies is expected to improve in the current fiscal year. Regarding housing construction, the trends in owner-occupied housing and housing built for sale moved lower than in the previous year, even though the number of new housing starts for rental housing is higher. Thus the total fell below last year's level. Consumer spending exceeded levels the previous year on a moderate recovery trend, because sales of daily necessities were robust and high-priced merchandise was steady, despite some impact from unseasonable weather. Capital investments for all industries were slated to increase by 9.1% in the FY2014 plan, and future trends are likely to remain robust.
Economic impact from 2020 Tokyo Olympics
A huge economic impact in Japan is expected from the 2020 Tokyo Olympics and Paralympics, which will be held in six years' time. Wider economic benefits are estimated to be around 3 trillion yen by the Tokyo Metropolitan Government and others, while the private sector puts the number at 19.4 trillion yen. The benefits will comprise direct effects through hosting (constructions of facilities, new demand such as consumption related to event watching, production and employment created from that demand, etc.) and bonus effects (rising stock prices and land values and the wealth effect, an increase in tourists from abroad, international conferences, acceleration of city infrastructure improvement, revitalization of private investment, etc.).
Data
Quarterly real GDP growth rate (annualized year-on-year growth rate)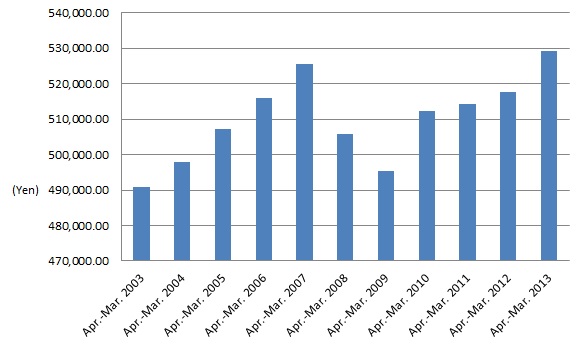 Source: Prepared by International Interface based on "Quarterly Estimates of GDP time series table: April - June 2014 (The 2nd Preliminary Estimates)," published by the Cabinet Office
Total annual real GDP
Source: Prepared by International Interface based on key statistics data in "System of National Accounts (GDP Statistics)," published by the Cabinet Office
Unemployment rate and ratio of active job openings to applicants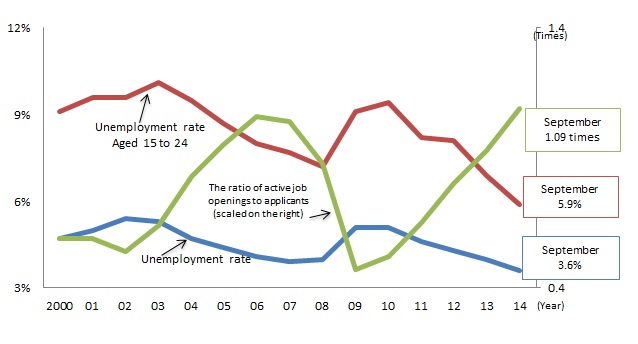 Source: Prepared by International Interface based on "Labour Force Survey" published by the Statistics Bureau of the Ministry of Internal Affairs and Communications, and "The Status of General Job Placements" published by the Ministry of Health, Labour and Welfare
Total cash earnings (year on year)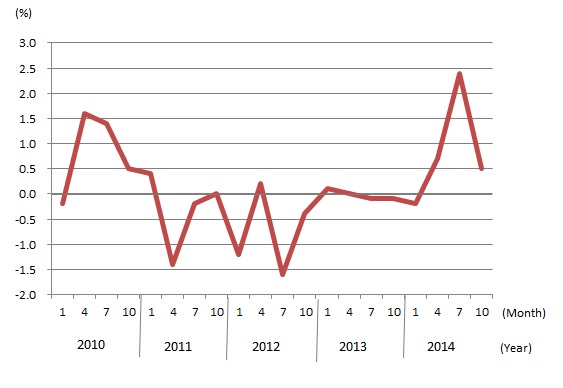 Source: Prepared by International Interface based on "Monthly Labour Survey" published by the Ministry of Health, Labour and Welfare
Business Survey Index (BSI) in Japan (Difference of "up"-"down" compared with previous quarter by enterprise)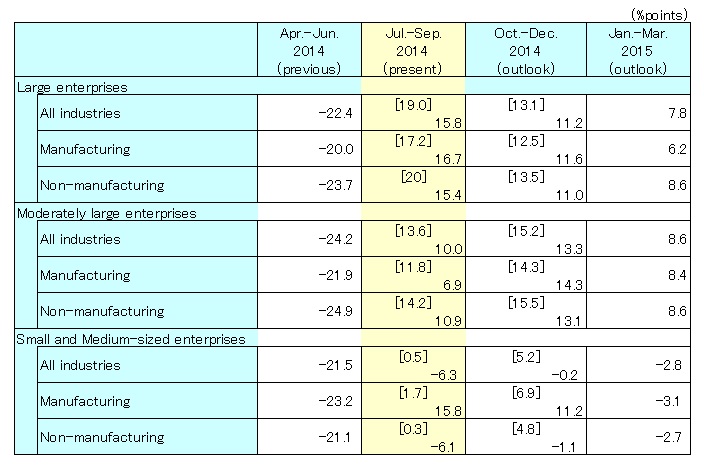 (Note) Includes finance and insurance business. Figures in [ ] are the outlook in the previous survey.
Source: Prepared by International Interface based on "42nd Business Outlook Survey (July-September 2014)" published by the Finance, Policy Research Institute of the Ministry of Finance